Sometimes, it's fun to just go on a quick adventure and take a nice vacation from the hectic and stressful life in the city. Not all of us want something extreme, like rock climbing or white water rafting, so a quick hike up a scenic mountain trail can be just the thing for a quick weekend out.
If this is your first time hiking, then here are some tips on how to prepare for your first hike!
How to Prepare for Your First Hike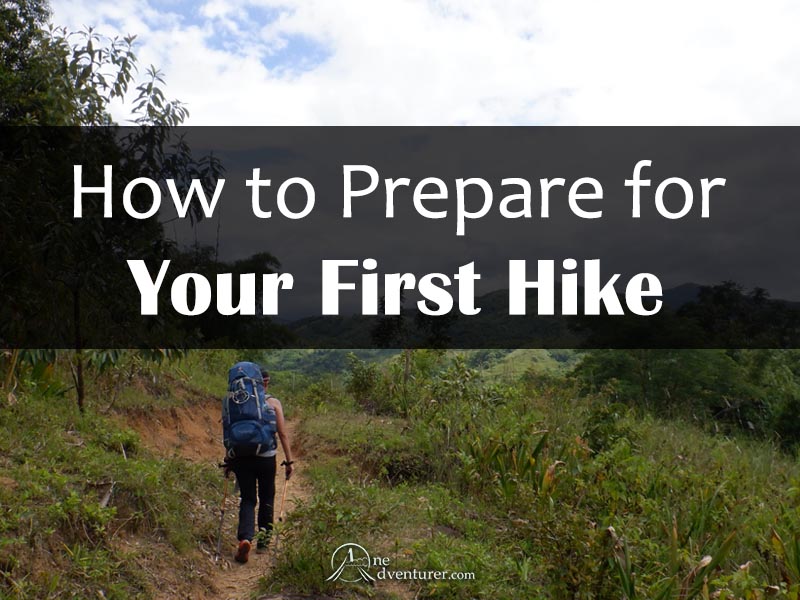 1. Research and Plan for Your Hike
If you want to really enjoy your trip as well as prevent potential disasters, knowledge and proper preparation is the key (Note: If you're reading this, you're off to a great start!). Do some quick research about your hike and prepare accordingly! Ask questions like:
What is the mountain like? (Rainforest, grassland, snow, desert, etc.)
What fun stuff can you do in that area? Swimming spots at a lake or waterfall along the trail? A nearby beach for snorkeling? Are there awesome family restaurants nearby?
Are there any special warnings, dangers, or mild inconveniences that you can find in the mountain? River crossings? Mosquitos? Poisonous plants? Leeches? Landslides?
What's the weather forecast on the day of your hike?
Did you check the climate or conditions of the mountain? For example, the Philippines is a hot and humid tropical country (32°C), but if you plan to hike Mt. Pulag, you need cold-weather gear for the possible 10°C or lower temperatures at the summit.
---
2. Bring Your Valuables: Money, Phone, IDs, etc.
There are several things you should not leave home without. Prepare a lot of pocket money for your trip, a mobile phone for emergencies, and some identification for registrations and emergencies. If you can, put these in a waterproof container like a plastic bag or food box to protect them in case it rains.
---
3. Wear Good Clothes and Shoes
Wear workout clothes! While cotton shirts and denim jeans are good for everyday use in the city, they're terrible for hiking as they are heavier, soak up sweat, and they take too long to dry. If you don't want to feel sticky and uncomfortable during the hike, wear some quick-drying and breathable polyester clothes for the trail.
Pants or Shorts? – Shorts are a good choice for clean and open trails, but I personally wear pants to keep out mud, bugs, tall grass that can cut and irritate skin, leeches, and other possible nasties on the trail. Some hikers also wear shorts with polyester leggings underneath.
Wear Good Shoes – Mountain trails can get muddy and slippery so choose some sturdy shoes with good traction. While you may not need to buy some brand new hiking shoes for one trip, just remember that shoes with flat soles (chucks, basketball shoes, running shoes, etc.) can make the hike a bit more difficult, especially if you'll need to ascend or descend slippery terrain.
---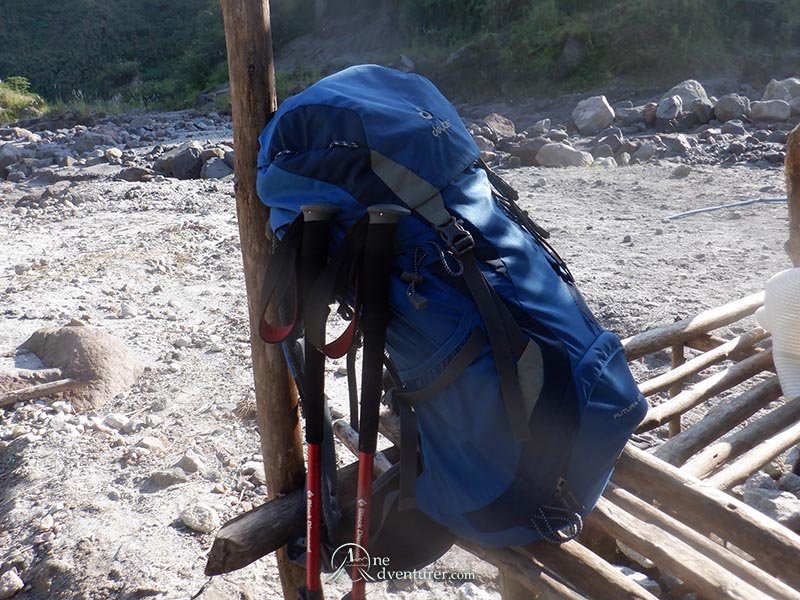 4. Use a Backpack for Your Gear
Wanna know who once brought a duffel bag for his first hike? Me, that's who. While it carried most of what I needed, it wasn't fun hiking up a 70-degree assault while trying to balance a duffel bag around my body. What made things worse was that a storm hit us that night while we camped so the steep trail was extremely muddy and slippery on the way down.
My brother traded his overweight and overpacked backpack for my smaller, lighter bag, and we both still found the descent quite difficult. He kept slipping on the muddy trail, and since he couldn't balance my bag , he had to chuck it downhill just to get down the steepest areas.
Use a backpack for your hike. You won't really need a super-quality hiking pack especially if it's an easier trail, but it should still be large enough to contain your water bottles, clothes, and other gear. It should also fit comfortably on your back as you'll be walking with it for hours.
---
5. Bring Water and Snacks
A hike stays fun if you have enough energy to enjoy the trail and the scenery. Keep yourself hydrated and keep your stamina up by drinking water and eating some food during the hike. For a beginner's trail that lasts around 2-4 hours, one or two liters of water should be fine. If the hike lasts longer than that, consider bringing more, especially if there are no water sources along the trail.
For snacks, just avoid junk food (candy, chips, sweets, etc.) as they can result in a sugar crash. Aside from that, bring what you like. I personally bring nuts and dried fruit as they're nutritious, and they're very compact energy sources for the trail.
---
6. Prepare for Emergencies
When we hike or go on an adventure, we expect to have fun. None of us ever want to get injured or sick. Unfortunately, emergencies happen when they happen, and all we can do is prepare for them. If you do your preparations well, however, you can turn a lot of potentially serious emergencies into mild inconveniences.
Oral Rehydration Salts – I've assisted so many beginner groups up mountains and, from my experience, cramps are probably the most common emergency I've faced. Buy a couple of sachets of oral rehydration salts from your local pharmacy and bring them with you on your hike.
First Aid Kit – I've written an article about this here in case you want a full list of what I bring for my first aid kit. Bring a few supplies such as bandages and medicine with you on your hike.
Headlamp or Light Source – Very useful on hikes where you start at 4am, but it's indispensable when you get severely delayed and you're stuck in the trail until nightfall. Your cellphone's light won't last long, but a flashlight or headlamp will get you though the trail at night.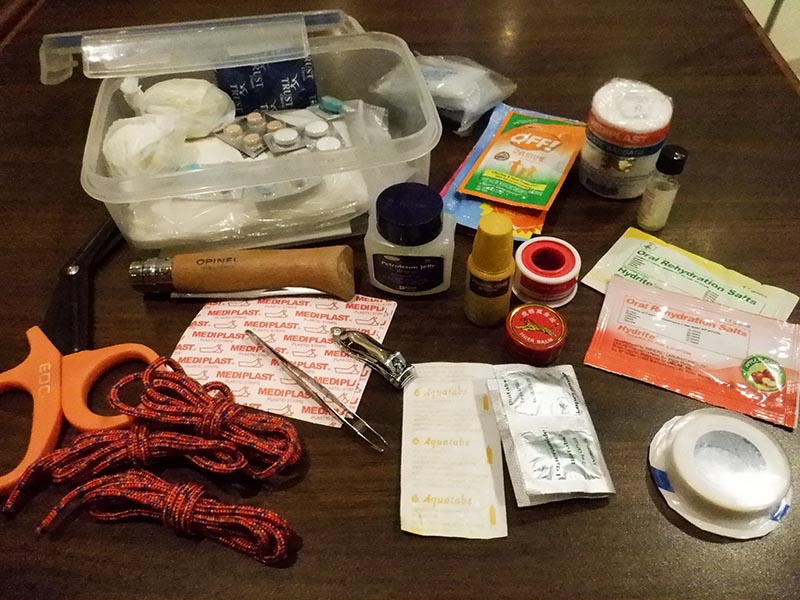 ---
7. Waterproof Your Gear
When you're out in the outdoors, all sorts of things can happen. It can rain, and you can also fall into a river. While you're hopefully not going to swim up a river in your hiking gear and backpack, you should at least prepare yourself and your equipment for bad weather… and the occasional fall into a river.
One of the quickest and cheapest methods to protect your stuff from water is to put them in plastic bags. If you want a more secure container, an airtight food box for your phones and electronics works wonders. If you have a decent budget, you can buy some drybags, waterproof phone pouches, and even dry boxes.
---
8. Bring some Plastic Bags
Plastic bags have a huge number of uses when hiking. You can use them as:
Trash containers.
A way to protect your gear from rain and mud.
A way to carry additional items such as food and gear that can no longer fit in your bag (tie them to your backpack).
Containers for your dirty clothes.
Makeshift water containers.
…and many more
I personally re-use old (but still sturdy) medium-sized plastic grocery bags for those purposes. They're incredibly useful when you need them, and they also don't take up a lot of space in your pack.
---
9. Bring Change of Clothes and a Compact Towel
There's nothing like a nice shower after a hike, and for some mountain trails, there are some shower areas for hikers. While you shouldn't expect more than at pail and a bucket of rainwater, a nice bath and change of clothes feels very refreshing. Consider bringing a change of clothes to make your trip home more comfortable.
---
10. Have the Right Mindset
Before we end, here are some final tips for your hike:
Hire a guide if necessary! While some of the most popular trails are well-developed, the vast majority of them won't be. Many will have multiple forks and unclear or overgrown paths so you can easily get lost. To be safe, consider hiring a guide (this is actually mandatory in most Philippine mountains) for yourself or your group. Stay together and follow your guide's instructions so you can finish the hike safe and sound.
Remember that it's not a competition.You're there to have fun and enjoy the entire hike, not just the summit. Avoid being like those first timers who feel the urge to show off and then get exhausted or injured. Just enjoy the journey and hike on your own pace.
Rest, drink water, and eat some snacks when you feel like it. Again, it's not a competition to see who's "toughest". Dehydration and hunger can turn a nice hike into a medical emergency. While you may be following a schedule, that's no reason to rush things and potentially compromise your safety. Take it easy and just enjoy your hike! 
Follow the "Leave no Trace" principle! Plastics can take years or even decades to decompose, and since a lot of mountains and trails don't have a well-established waste disposal system or have cleanup drives, any trash you leave can seriously damage the environment. This is the reason why hikers practice "leave no trace" (LNT). Here's the basics:

Whatever you bring with you up the mountain (food, trash, etc.), you bring it back with you to the city.
Don't kill any living creature or break off parts of plants while you're on the trail.
Don't wander off the established hiking trail. You harm the plants you step on, and you can also erode the area in terrible ways. 
And there you go! Ten tips on how to prepare for your first hike. I hope you learned a lot and I hope you enjoyed reading this article. If you want to learn more, check out our other tips and articles here on OneAdventurer.com!