"How difficult is the hike?" Whenever I invite a first timer to hike a mountain with me, that's one of the first questions they ask. Normally, "beginner mountains" with simple trails are easy enough to complete for first time hikers, especially if they're reasonably fit and don't have any serious medical problems.
Still, it's really hard to estimate what a mountain hike is like unless you have something to compare it to, and the easiest thing to compare hiking to is climbing a building!
If a mountain is a certain height in meters above sea level (MASL), how many floors of a building would that be like? I went to a local shopping mall with a 29-floor office tower to check.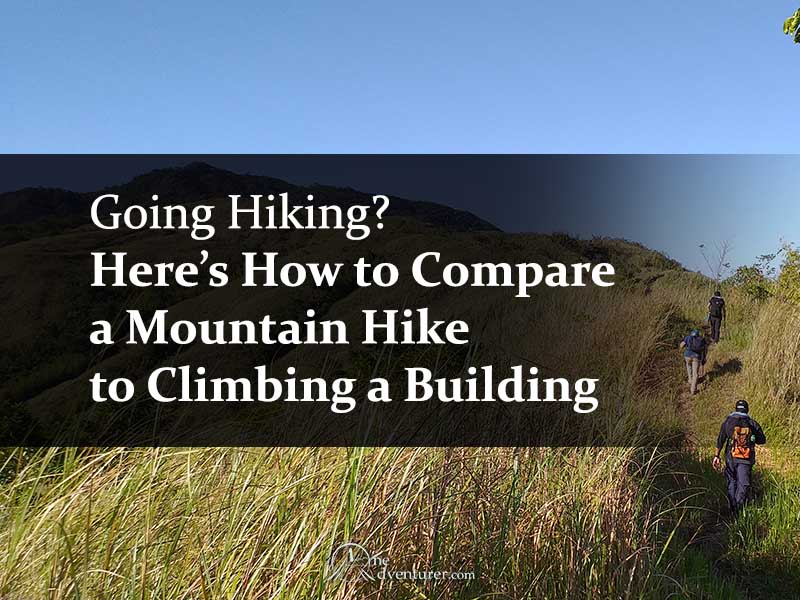 Here's How To Compare MASL to Floors in a Building:
Mountains and the ascent you need to do are usually measured by MASL or "meters above sea level".
A step of stairs is usually around 19.05 centimeters or 7.5 inches (rounded up).
Each floor (in the building I used) had around 22 steps. That's around 419.1cm or 4.191 Meters a floor.
Therefore, take the "MASL" data of the hike's ascent and divide it by 4.191. That hike is equivalent to a building with that many floors.
Of course, you don't always start from sea level. If you want a more accurate measurement, you need to know how many meters the ascent is from the "jump off" point (where the hike officially starts) and the summit or the peak you want to hike to.
---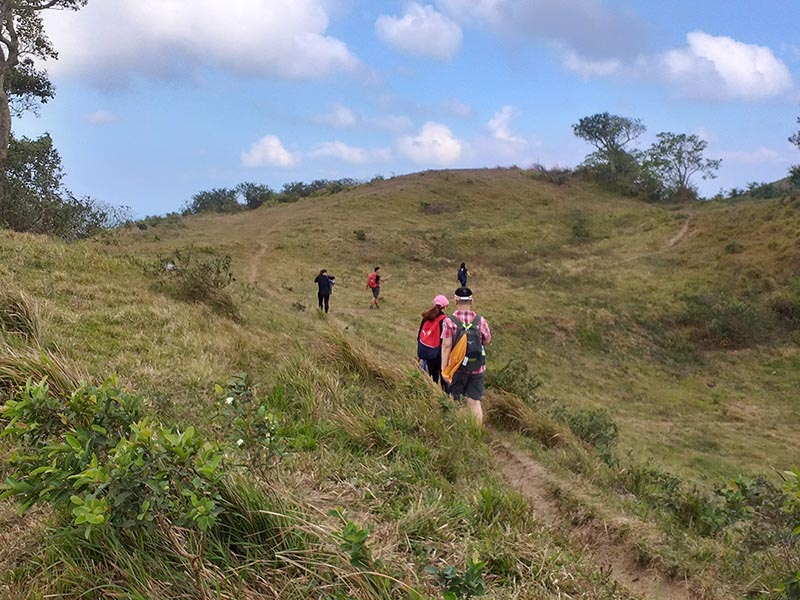 Example (Mt. Gulugod-Baboy, 525+ MASL):
Let's use my favorite beginner mountain Mt. Gulugod-Baboy (also known as Mt. Pinagbanderahan) as an example. It's approximately 525+ MASL, and the jump off or starting point is somewhat close to the sea (you can swim in the ocean after you hike). Imagine you start from 25 MASL and you need to climb 500 meters more to reach the summit. That should be equivalent to a building with how many floors?
Calculation: 500 / 0.4191 = 119.30 floors.
Almost 120 floors. Does that sound scary for a "beginner" mountain? It's not.
In fact, we've taken 50-year-old office workers and couch potatoes there, and they can reach the summit in less than 3 hours. Reasonably fit people can finish it in one and a half.
Hikes are very different from climbing buildings. Hikes are meant to be slightly challenging, yet fun. You're not rushing up a set of stairs for a meeting. You're there to enjoy your surroundings and breathe fresh air, and you get to take a break every few minutes to admire the view. It's like climbing a few floors, resting to take pictures, climb another few, sit down to drink some water and eat some trail food, climb again, and in a couple of hours you're finally at the summit.
---
A few more things to remember:
Unlike staircases, hikes aren't always 45-degree assaults (steep sections). Long stretches of flat terrain or a gradual ascent is easier than a continuous steep climb.
Heat, humidity, rain, and difficult weather can make the hike more difficult.
If you don't have footwear with good traction (like hiking shoes), muddy or slippery terrain can give you trouble on certain parts of the trail.
The heavier your pack, the more tiring your hike will be. Bring only the essentials: water, food, medicine, first aid kit, wallet and phone, etc.
Some mountains have multiple peaks, and that means several tiring assaults and descents. Remember to rest when you need to!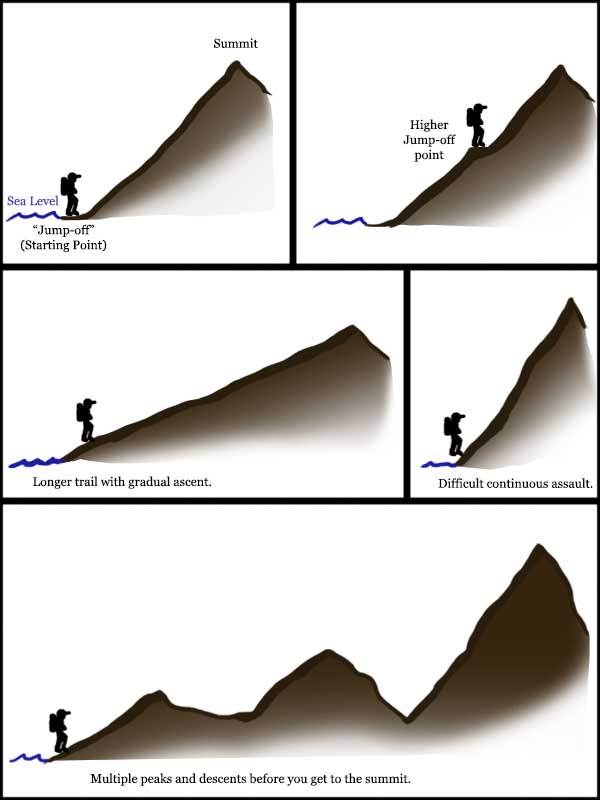 ---
How to have a better hiking experience:
As an experienced hiker AND guide for several sets of first timers, these are my top tips. I really believe that, unless you have serious medical issues, you'll be able to conquer a lot of beginner mountains with these.
Rest when you need to, and rest often. Don't try to keep up with your more athletic companions. Relax and make sure to stop and rest often to enjoy the view. You'll have a much better experience of the mountain than people who try to strain themselves just to show off. (And if you have me as a guide, I'll be there at the end of the line with you. I enjoy being the sweep BECAUSE I get to relax with people.)
Bring water. For a "dayhike" that takes just a few hours to complete, you should still have 2 liters or more, and you should drink lots of water before you leave the house.
Bring food. It's to keep your energy up. I personally think water is far more important as you can keep walking even when hungry, but it's much better to have lots of energy while hiking. I recommend nuts and dried fruits by the way. They're easy to carry and eat, and they pack a good amount of calories and nutrients.
There's a LOT more to hiking that I want to talk about, but those are better left for another article. I'll write more hiking and adventure tips and tricks for you soon, so stay tuned! Also, follow us on Instagram! @oneadventurerblog