Want a quick checklist of what to bring for a quick hike in the mountains? Here's a short but tried and tested list of things that I would recommend! Take note, however, that this is for a simple and easy hike in the tropics. If you're going on an overnight camping trip or a hike through some extremely cold places like snowy regions or extremely hot places like deserts, you'll need a few more equipment and clothing that we won't discuss here.
If you want to have a safe and enjoyable hiking trip, be sure to check out our 10 tips on how to prepare for your first hike here!
Anyway, on to the list of what you need to bring!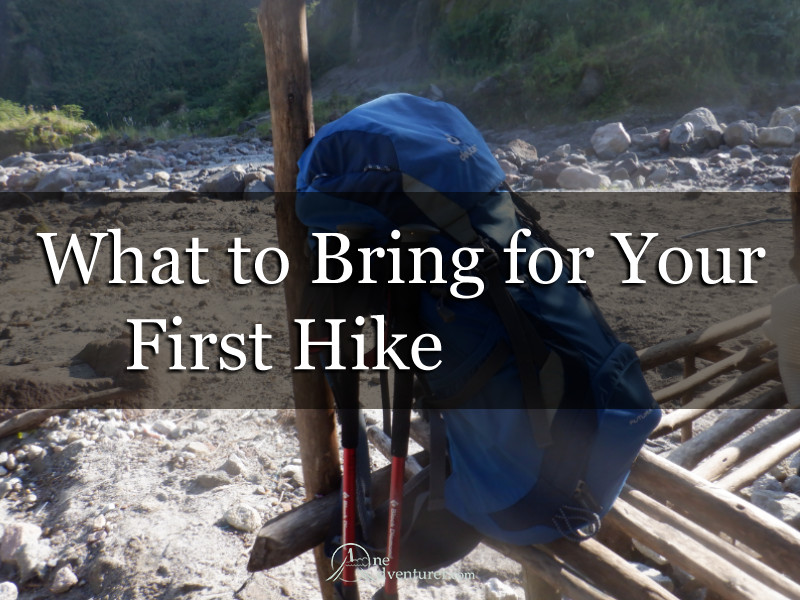 The Essentials: Don't leave home without these!
Your Valuables: Money and Wallet, Keys, Cellphone
Good clothing and shoes
Backpack
Water, and some Food
First Aid Kit and Medicine
Next Things to Bring:
Waterproof bags/containers for your valuables and electronics.
Light Source: Headlamp recommended, or Flashlight
Jacket/Rain Coat and an Umbrella
Hat
Extra clothes and sandals/flip-flops
Powerbank for your Phone.
Recommended Extras:
Pen and Notebook
Plastic Bags
Sunblock
Mosquito repellent
Knife or Multitool
Small Towels
Emergency Whistle
Shades/Sunglasses
Compact Microfiber Bath Towel
Paracord
---
Explanation:
Why would you need all that stuff? Here's my explanation for just about all of them, and remember, this list is for an afternoon hike in the tropics (not snow or deserts) under ordinary circumstances (not during storms or other weather).
First off, you'd obviously need your cellphone and wallet (with cash) as they're necessities in daily life. Hopefully you have emergency contacts on your phone, and you know how to contact local rangers in the area where you're hiking in case something bad happens. Your wallet should have cash too as very often places in the countryside don't take credit cards for payment if you need to pay for registration fees, emergency supplies, emergency transport, etc.
As for water, bring at least a liter or two for an afternoon hike. It's better to bring a bit more than to bring too little as getting dehydrated during a long hike can be extremely dangerous. Aside from that, some snacks for an energy boost would be helpful too. I personally like to bring nuts (calorie-dense) and raisins (easily digested for fast energy) as they're relatively cheap and easy to eat during the hike.
As for your clothing, wear hiking clothes or breathable sports clothes as hiking is still a somewhat strenuous outdoor activity. Cotton and denim won't be comfortable if you're ever drenched in sweat (or rain). To carry all your stuff, you'd need to use a backpack too as it frees both of your hands in case you need to grab on to rocks or trees for support, and it's easier to balance if you're walking along unstable or dangerous terrain like cliffsides.
The last essential item you'd need is a first aid kit for emergencies (read our more detailed article about hiking first aid kits here). If you ever slip and get wounded/sprained, or your knees start hurting from all the walking, or if you get an insect bite or are suddenly at risk from heatstroke, it's best to be prepared.
For the next important extras, you should bring some sandwich bags or a lockable food storage box (the spill-proof ones are waterproof) as you will store your phone, powerbank, and other electronics there in case it starts raining, which happens very often in the tropics/mountains. You should bring a jacket/rain coat and an umbrella too for that same reason, with the added bonus that an umbrella (and a hat) can provide cover in case the sun gets too hot and you're in danger of heat stroke.
For the end of your trip, an extra set of clothes and some flip flops would make the trip home much more comfortable. That's especially true if there are showering areas near the end of the trail, so bring a microfiber travel towel just in case. If your bag has no more room for your used hiking clothes and shoes, you carry them in plastic bags or tie them to your backpack using paracord.
In any case, we'll end here for now. That is the list of things I'd recommend that you bring for a quick hike through the woods. How about you? Do you have other things you'd recommend? Tell us in the comments section below!