I've always enjoyed the outdoors, and although I'm not one of the most hardcore hikers out there, I still managed to join and volunteer at a hiking company that guides beginners and advanced hikers alike in the most popular mountains of the Philippines.
One major requirement for their guides and volunteers, however, is that they always carry a first aid kit and they undergo basic life support and first aid training every one or two years. These are just some of what we carry, and a few more that was recommended by the veteran search and rescue officer who trained us.
Note: We usually go on "day hikes" in a tropical climate where river crossings and rain storms are fairly common and thus we are equipped accordingly. If you're going on a longer trek or you're going to hike in a different climate like a desert or a snowy region, you might want to bring other specialized first aid and survival equipment that's appropriate for what you will do.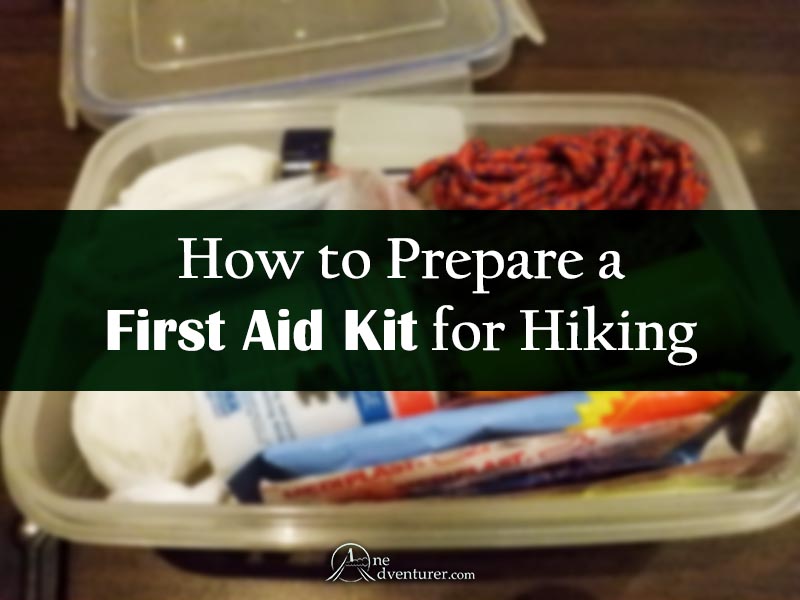 Tips for Packing your First Aid Kit
Use a waterproof container. Sometimes it rains, and sometimes you fall into a river, so store your first aid gear in a waterproof container. I personally use an airtight food storage box, but if it's too heavy you can waterproof your kit with a drybag or even a sealable sandwich bag.
Make your first aid kit easy-access. When emergencies happen, you need to be able to take it out right away. You can put it near the top or in a secure outer pocket.
Store important contact numbers in your first aid kit. Not all countries have 9-1-1 (universal emergency number), so write down local emergency numbers on a piece of paper and store that in your first aid kit and your phone. You'll also want people to be able to contact your loved ones in case something happens to you or your group, so store their numbers there too.
---
Hiking First Aid Kit List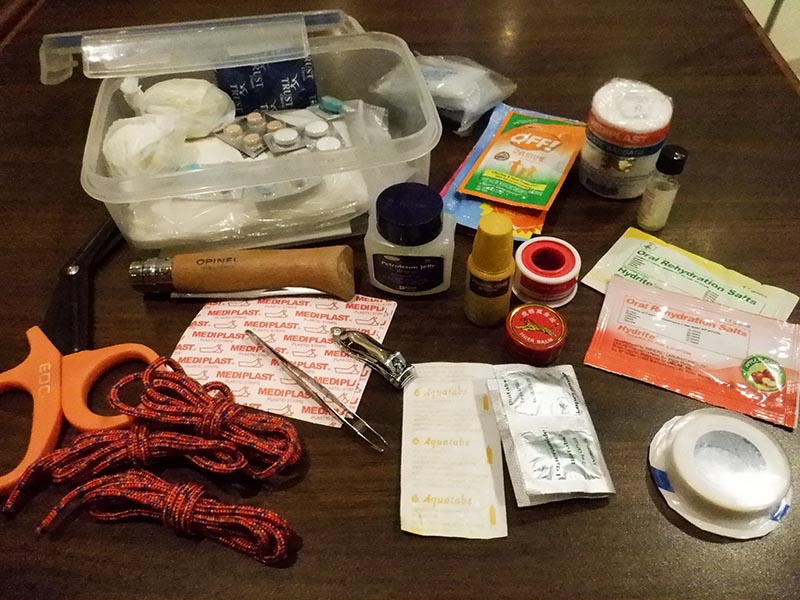 Essentials:
Oral Rehydration salts – This is perhaps the most commonly used item in my kit so I carry a few sachets. In almost every two or three large hiking groups I join, somebody gets a cramp. Mix a sachet with water and have them drink the solution in order to help them recover faster.
Allergy medicine – Bugs, plants, dirt, dust… several things can cause allergies, so bring some anti-allergy medicine for your trip.
Prescription medicine
First Aid Kit Basics:
These are the most common things people carry for their first aid kits, and you should have these as well.
Medicine

Painkillers (Ibuprofen)
Motion sickness medicine (meclizine hydrochloride) – for long, winding road trips along mountain ranges.
Paracetamol
Antimotility medicine (Imodium, Lomotil) for diarrhea.

Antiseptic (Betadine/Povidone-Iodine, isopropyl alcohol, peroxide)
Gauzes
Band-aids – Try getting the waterproof or water-resistant ones.
Elastic bandages
Leukoplast tape
Micropore tape
Small scissors – much better than using a large (and potentially dirty) camping knife for cutting medical tapes.
Cotton balls
Cotton swabs
Tweezers
Be prepared for more serious situations:
Triangular bandages
Tourniquet – A latex/rubber tourniquet is common and small enough, though some, like the search and rescue officer who taught us, carry a combat application tourniquet (C.A.T.) for those extreme cases.
Paracord – For makeshift splints and slings, securing bandages, etc.
SAM Splint – incredibly useful for bone injuries, but is rather large and difficult to carry, especially in a hiking situation. Remember that you can make splints from tree branches, trekking poles, etc.
Trauma shears – ordinary scissors usually can't cut through layers of clothes (like when you need to treat heat stroke victims). You use these there. And besides, a strong pair of scissors have great uses, like for cutting bandages out of extra clothing.
Emergency blanket – This (and CPR training) is hopefully one you will never need to use, especially if you just planned an ordinary day hike. Use this to prevent hypothermia on trauma victims or if you're forced to stop for a long time in a place that's exposed to the elements.
Carry these too:
Petroleum jelly
Tiger balm
White flower embrocation
Medical Gloves (Latex or Nitrile) – for serious bleeding, you need to protect your hands from pathogens in blood.
Useful extras for your hike:
Nail clippers – I hate hangnails so I always carry these even in my everyday (non-hiking) bag.
Lighter – I don't smoke, but I always carry a lighter. There are several occasions when they are useful.
Mosquito repellent – Mosquitoes carry lots of nasty diseases, especially if you live near the equator.
Sunblock
Knife – So many uses, like making splints from tree branches.
Water purification tablets – I carry these for camping trips. They don't take up a lot of space, but they can save your life if you run out of water.
Headlamp – When one of your team gets injured, it may take you until nightfall before you can safely exit the trail and reach civilization. Be prepared. For those of us who regularly guide large groups of newbies, we bring an extra.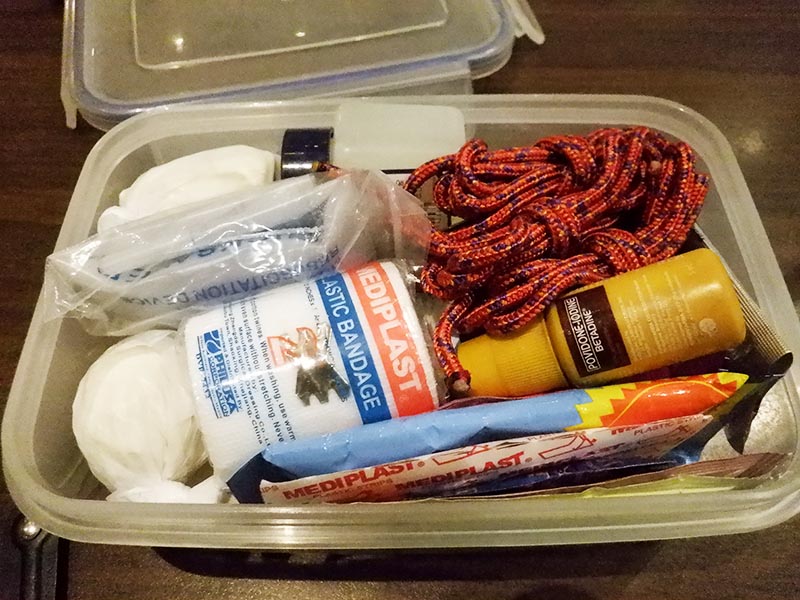 ---
One more tip: Download a First Aid Book for your Smartphone
First aid and survival skills are a must, especially if you plan to hike outdoors. If you plan things well, your hikes and adventures will very likely go smoothly. Still, there's always that chance that things go wrong, and it's always best to be ready for that.
Learn some first aid skills and download some references on your phone, like some good first aid books. Read them, and review them when you have some free time. You'll never know when you might need them.
Here are a couple of eBooks I bought on Amazon, and I'd personally recommend them to you if you want some good resources in case of emergency. (Affiliate links below.)
---
And there you have it, a short list of what I bring for my hiking first aid kit. You will, of course, need a lot of other important equipment depending on the conditions of your hike so make sure you study up on the location you're traveling to, the weather and conditions you'll face, the special conditions and equipment (or lack of) of the people you'll be with, and plan accordingly.
Remember to keep safety as your priority. Hikes are meant to be fun and enjoyable, so don't let emergencies due to carelessness and lack of preparation change that.
I hope you enjoyed learning from this article! Bookmark our page and follow us for more! Thank you and see you again soon!