Have you ever watched a cool sword fight at a movie and thought to yourself "I wanna do that too"? While it's easy to find gyms for boxing, MMA, Muay Thai, arnis/kali, and other martial arts, in the Philippines there's not a lot that teach longsword fighting and HEMA (Historical European Martial Arts). I really didn't think HEMA existed as a sport in our country especially with how common our homegrown blade and stick arts (arnis/kali) are. While browsing my Facebook feed, however, a friend of mine shared a swordmanship lesson scheduled last January 11, 2020.
I knew I didn't want to miss it so I signed up (and got waitlisted, but I went anyway). What did I find at Forge: Martial Fitness – Pioneer? Check out my experience with them here!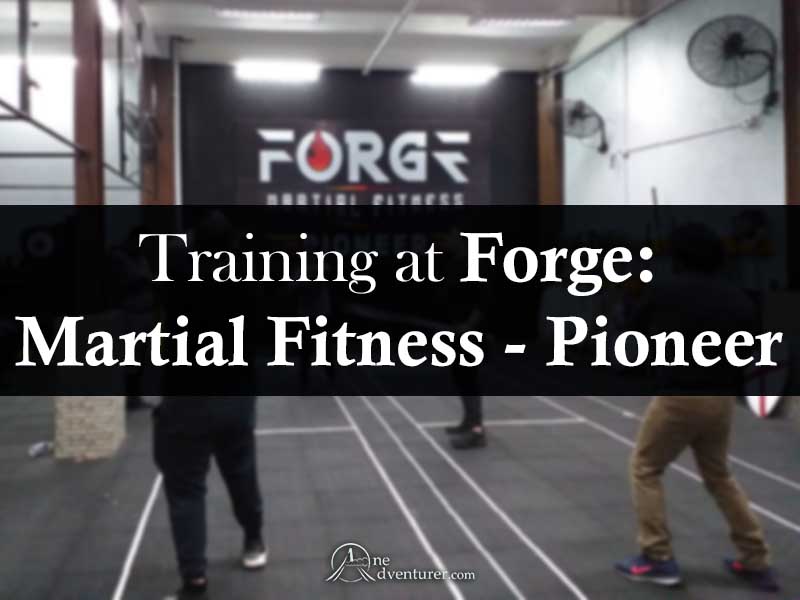 Training at Forged Martial Fitness – Pioneer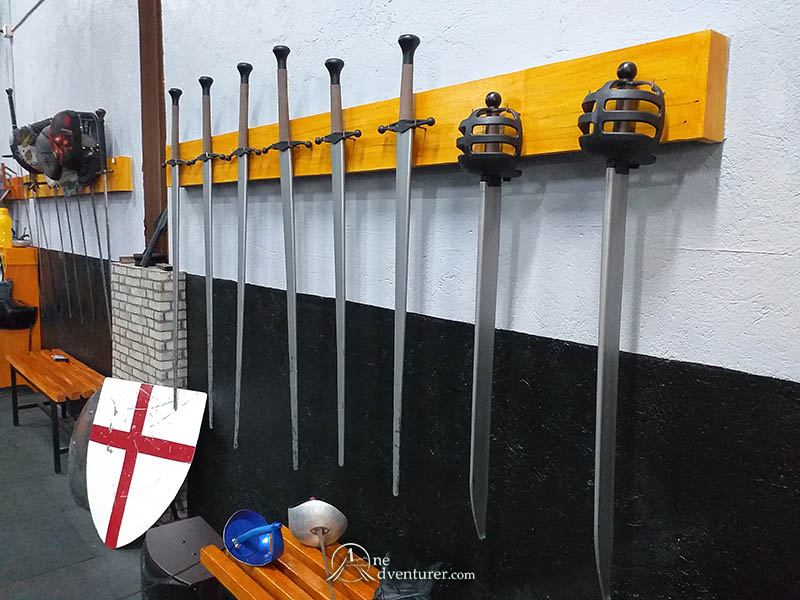 A wall full of swords. That's the very first thing I noticed upon entering their gym and I've never seen anything like it before. While they have a bunch of weights, kettlebells and punching bags at the far end of the room, it's the wide array of training swords that took the spotlight. A bit further back, there was a bunch of fencing masks, foils, sabers, and épées. All of them well worn from training and sparring.
I got there by 2 p.m. and there was still a bit of time before their free swordsmanship lesson. After signing their attendance and waiver, I was free to check out their gear. I saw a pair of cold steel training swords (the kind my younger brother wanted), a bunch of U.K.-made sparring longswords, a set of custom-made carbon steel training swords, and several others. They were high quality stuff. Now I'm not sure if you can just borrow those normally on any other day, but since there was a scheduled free trial session for outsiders, everyone was welcome to check their equipment out.
As 3 p.m. approached, more and more people started trickling in. The whole gym was reasonably wide, but if you want to swing a sword you'd need enough space and the whole place seemed like it would only fit around 10 to 15. There were 28 trainees when we counted (plus the coaches), and it was clear we all wouldn't fit. Thankfully, our head swordsmanship instructor Coach Jericho split us up into groups and we all took turns training in the venue so that everyone had a chance to learn.
---
I didn't plan on writing about this training so my phone was in my bag for the whole lesson and I couldn't take pictures of the event. I DID, however, get to take some photos of the venue and their equipment so have a look at them here!
What was the training like?
Having been through a few free trial classes in other sports and martial arts, I'd say it was a pretty good introductory lesson despite each of us having to wait a long time for our turn. We naturally started off with some warmups like a set of jumping jacks and a game of tag (to teach us to still try to "hit" our opponent even if we've already gotten hit). After that we each borrowed a sword or stick and we were taught the six basic strikes of HEMA. Coach Jericho had a background in Filipino Martial Arts (FMA) which has a lot of blade techniques, and he is also acquiring certifications in HEMA.
The basic strikes in HEMA look quite simple, but if it's your first time swinging a longsword or a long weapon then getting the proper body mechanics will take some practice. By the way, if you're wondering how they look like then here's a quick YouTube video about it that I found online:
One thing to remember is that watching how techniques are done is VERY different from actually doing them yourself and practicing so just try it yourself when you can. Pick up a long stick that's about the side of a sword and try the techniques in the video above. Those of us who have never done it before will probably make a lot of subtle mistakes that only good coaches can spot and correct. Aside from that, getting good at sparring, sport, and combat is a whole different level and you'll need lots of experience and training in order to get good at those.
After learning the basic swings (and me accidentally hitting the table and pillar several times due to the limited space), the next major lesson was about the most important part of combat. No, not hitting or striking but FOOTWORK. Learning to move to a position where you can apply your techniques well and positioning yourself so that your opponents attacks won't harm you is a crucial part of fighting and it takes a lot of skill, training, and experience to get good.
Don't dismiss footwork drills as "boring". They could mean the difference between victory and defeat.
---
It is easy to kill someone with a slash of a sword. It is hard to be impossible for others to cut down.

Yagyu Munenori, The Book of Family Traditions on the Art of War
---
Watch a few videos of the event on these links:
After the basics, we did a few partner drills where we learn a technique and then have our partner attack ("feed") us to practice the new counterattack or strike. For a quick sample, check out these videos of the event by Forge: Martial Fitness – Pioneer:
Two hours in and we've already learned the basics of striking, footwork, plus a few partner drills. The entire training up to that point had been quite easy and almost none of us have broken a sweat. The grand finale, however, was VERY different. While we wouldn't get to spar because there were too many of us, we did have time for the next best thing. A "sparring simulation".
---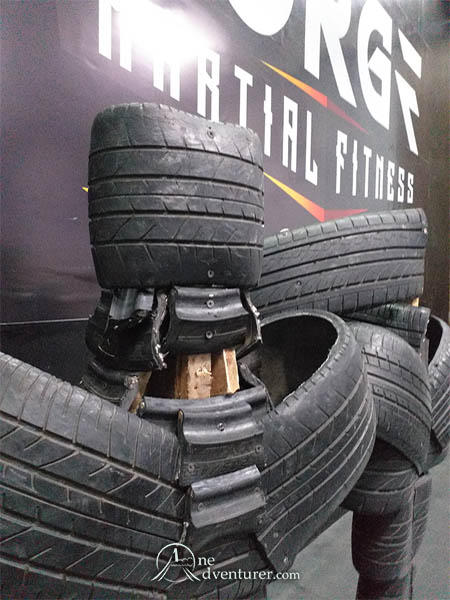 "Sparring Simulation"
Setting up two dummies at the center of the room, the Coach Jericho and his assistants placed a pair of synthetic sparring longswords on each dummy's front and back. He split us into four groups and gave each group's next person in line a rattan stick and fencing mask. Here's what we had to do:
For the first minute, we had to do non-stop jumping jacks, squats, and push ups. Later participants will have to do more and more squats and push ups.
Then without taking a break we had to pick up the longsword and strike the rubber dummy non-stop for a whole minute with all our speed and strength (but still using proper technique).
Finally, we had to turn around and face our partner who would "feed" (attack) us non stop and we had to defend and counter using what we learned that afternoon.
As you can probably imagine, it was extremely tiring. By the end of those three minutes I felt like my heart was beating out of my chest and my blood felt like electricity coursing through my body. Still, it was incredibly fun. After all, how often do YOU get to swing a sword full force at a rubber dummy?
Once everyone had their turn, we had several photo ops and the free training finally winded to a close. Overall, the whole event was quite awesome and I am very interested in training with them again.
I remember that aside from swordsmanship Forge actually has several different classes. As far as I know they have Fencing, Muay Thai, animal flow, and a few others. You can pay for their training packages that come with a number of sessions, and you can use those sessions for whatever martial art class they have. If you want to learn more, just contact Forge: Martial Fitness – Pioneer on Facebook.
---
How to Commute to Forge: Martial Fitness-Pioneer Branch:
Take the MRT to Boni Avenue station and get off on the East exit at SM Light Mall.
Walk over to Robinson's and look for the tricycle terminal in front of the mall.
Take a tricycle to the Jollibee at the corner of Pioneer street and Sheridan. The entrance to Forge is within a compound along Pioneer street.