A small hill of just around 196 meters above sea level in San Miguel, Bulacan, Mt. Manalmon is one of the best hikes for first timers looking for a quick adventure near Manila. Now I won't bore you with the details that you can find in other websites, but here's a quick overview:
It's a very easy one to two hour hike that's great for beginners.
Aside from hiking, there are also rivers you can swim in and caves for you to explore. You get to try at least three different adventures all in one day.
What to bring for your hike:
Some money for registration and guide fees.

Note: Registration and guide fees change often, but expect the registration fees to be less than P100 per person, and the guide fees to cost around P500 or so (P300 for Manalmon hike + P200 Bayukbok cave). These prices may increase, by the way, so prepare a little extra.

Wear good sports clothes and good shoes or sandals.
Water (1-2 liters) and snacks. Put them in a backpack for your hike.
Change of clothes and towel. There are showers in the area if you want to change into clean clothes for your ride home.
Headlamp or flashlight for Bayukbok cave.
(Optional) Gloves. Handholds in Bayukbok cave are often muddy.
(Optional) Swimwear if you want to swim in the rivers.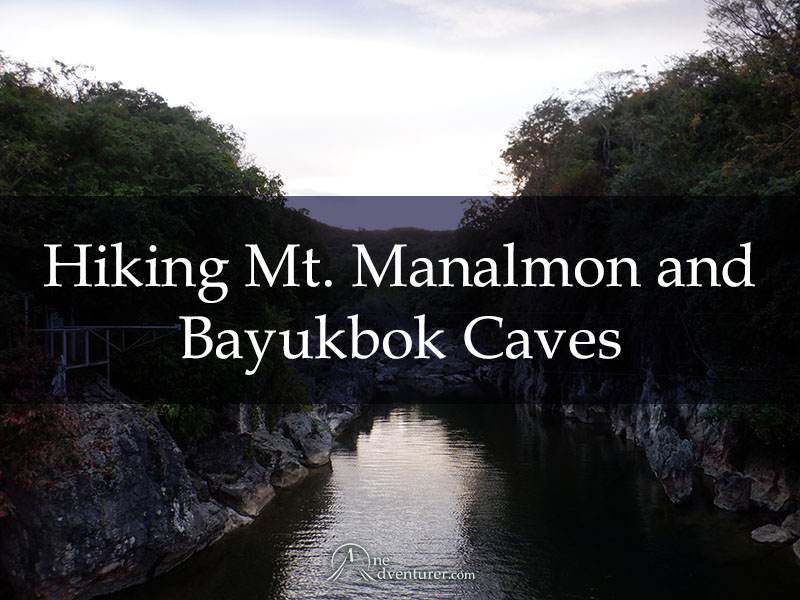 ---
First, registration
After reaching the town of Madlum (Sitio Madlum), keep following Madlum cave road until you reach a fork where you'll pay an entrance fee. Enter and keep going until you reach the parking area near the river. Cross the bridge over the river to your left to get to the registration area to pay the registration fees and get your guides.
By the way, there are lots of shops run by locals in the area where you can buy some food and drinks. There are toilets and showers here as well, but you'll have to pay a small fee to use them.
---
What's the hike like?
Here's the quick summary so you know what to expect.
After registration and the short orientation, you'll start the hike by climbing a set of stairs that lead to Madlum cave, a rather short tunnel with a scenic exit. You'll see some very nice limestone formations on the other side so enjoy the view and make sure to take pictures!
Right after Madlum cave, you'll descend along some limestone rocks and come across a river crossing. There used to be a path of stones here that you can walk on, but now they've been mostly submerged. If you don't want your shoes to get wet, just take them off for the crossing and dry your feet on the other side. It should take you around 15 minutes and the hike is easy enough as it is so you don't need to hurry.
After the river, it's a nice and simple one to two hour hike along the Mt. Manalmon trail. There are a few scenic spots along the way so don't forget to take lots of pictures! By the way, there are lots of groups hiking during weekends so your group may need to wait your turn. Take this time to rest, eat some snacks, and drink water. Your guide will call you when it's your group's turn to go to the summit. Don't take too long up there especially if there are other groups waiting!
From Mt. Manalmon's summit, there's a trail to the neighboring mountain called Mt. Gola. I've personally never gone there so I won't write about it here. Anyway, after reaching the summit you will take the same trail (including the river crossing) back to the registration area where you can eat lunch and rest.
---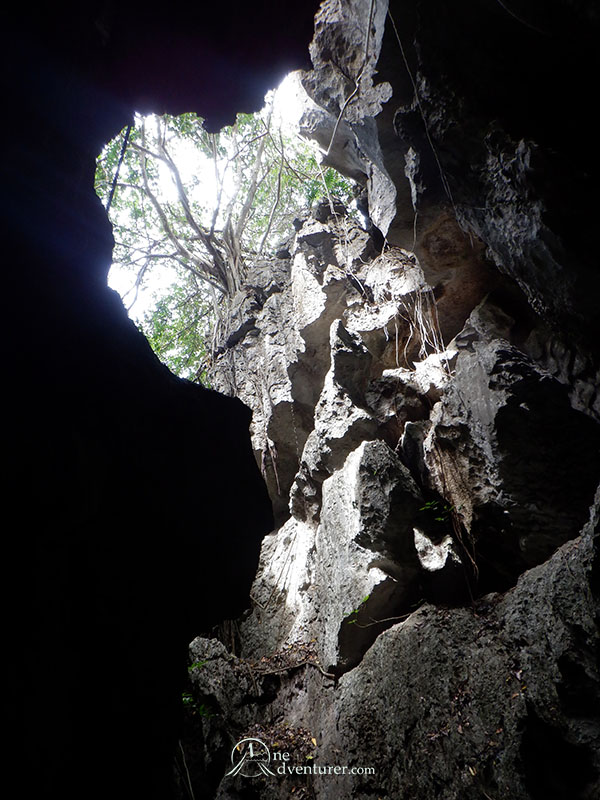 Bayukbok Caves:
If you think the adventure is over after hiking to Mt. Manalmon's summit, check out the nearby Bayukbok caves for an hour or two of caving! If you've never explored a cave before (aside from the really short Madlum cave), then this is a must-try. Here you'll be stretching your arms and legs to reach hand and footholds and crawl through some really tight openings and passages.
While caving at Bayukbok caves is only slightly more difficult than the hike to Mt. Manalmon, it is a bit more complicated. You'll really need to concentrate on where you're stepping and what you need to hold on to, so always listen to your guide!
Special note: In my opinion, the only really difficult part is the vertical descent at the entrance. Most people can do it, but if you have serious medical conditions with your hands or feet or a serious fear of heights, you should probably reconsider. Here's how that section looks.
---
Some tips and reminders:
Listen to your guides and don't stray too far from the group.
Avoid damaging the stalactites and stalagmites as they take millions of years to form.
The limestone handholds may be sharp and muddy so gloves may be helpful.
Congratulations on conquering Mt. Manalmon and Bayukbok caves! After that, you can swim in the nearby river or take on the "monkey bridge" challenge near the registration area and attempt to cross the river on three steel cables. Remember that there are some showers nearby in case you want to freshen up before your ride home!
---
Map:
A nice and simple hike, a cave adventure, and a chance to swim in a river, Mt. Manalmon is definitely one of the best adventures for beginners and first timers. Do you have any more questions about the hike? Are you planning on visiting Mt. Manalmon and Bayukbok caves? Tell us all about it in the comments section below!