Ah, Baler. It's one of those amazing destinations I didn't think I'd ever travel to and so I didn't think about it much, so it's a great thing my cousin decided to hold his wedding there and we were finally able to see it.
Before I was ever a hiker, my primary outdoor adventures involve beaches and snorkeling. Now how did I get into surfing even though I don't know how to swim that well (or at all)? Back in college I joined, and later organized, week-long trips to the northern provinces of Luzon, and one of our final stops was a famous surfing spot in San Juan, La Union. The waters were shallow, the waves were calm, and there are instructors you can hire to teach you. Perfect for beginners… just like Sabang beach of Baler!
Aside from La Union, I heard of other very famous surfing spots in the Philippines like Siargao, Baler, and Surigao, but I've always thought they were too far from Manila so I dismissed them from my mind. If I ever wanted to surf again, I'd just go to San Juan, La Union from October to January. It was a great stroke of luck that our family was invited to my distant cousin's wedding in Sabang, Baler, and I got to experience firsthand how nice the waves are there.
Have you ever wondered what Baler's Sabang beach is like? Here's what I've experienced!
Planning for a Trip to Baler? Here's What You Need to Know!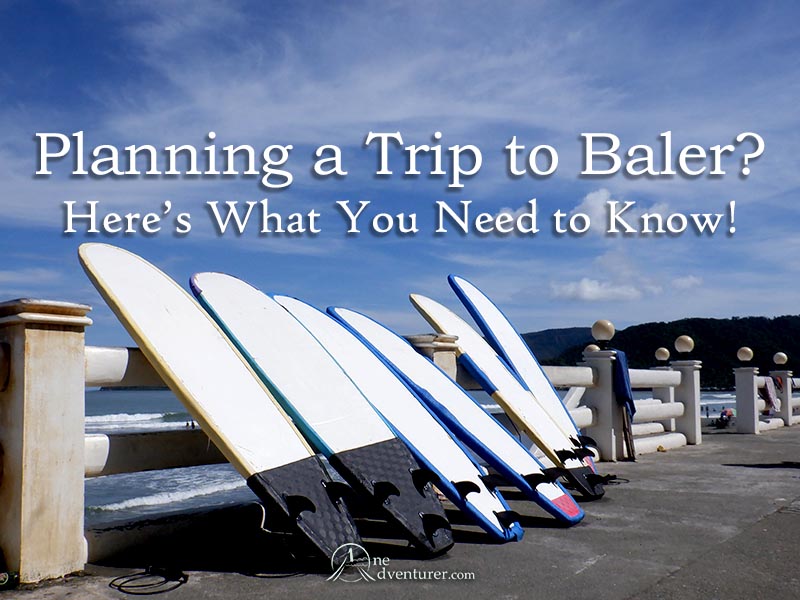 ---
I'm used to cramped bus seats and sleepless rides, but the Genesis bus company's Joy Bus vehicles are somewhat unique. They have really nice and roomy seats that you can recline quite a bit, they have a footrest for your legs, and the vehicles have a toilet so you won't need to wait for the next bus stop if you really need to go to the toilet.
As for the road trip to Baler, it usually takes around five or six hours. We left Manila at midnight and got to Baler at 5:15am. Several tricycles were waiting at the bus station so we were able to get to our lodging at Sabang beach quickly. At the time we went there, the tricycle ride cost P20 per person.
By the way, while the route from Manila to Baler is nice and calm for the most part, one long section of the Nueva Ecija-Aurora road is full of turns and curves like the mountains of Baguio and Sagada. If you get carsick easily, you will really need to prepare some medicine for this part of the trip.
---
Sabang Beach
At the central region of Sabang beach, there's a concrete baywalk raised above the sand, and there are plenty of restaurants, resorts, and surf shops. If you want to spend your Baler vacation near the ocean, there are lots of guesthouses and resorts to choose from and you can book most of them online, like through Booking.com.
As for the beach itself, it's a beach break which means the bottom is sandy with almost no rocks or corals, and it's also relatively shallow. The waves do get strong though, so if you're bringing children along make sure to watch them carefully.
Take note!
Mobile data signal is unstable in the area. It's relatively usable in the north and southern ends of the baywalk though but don't expect much.
Some cafes and restaurants in the area offer free WiFi and they're decently fast.
Be careful as there are some spots with a strong undercurrent and they'll pull you towards the ocean.
---
Go Surfing
First time surfing? There's plenty of surf shops and instructors in the area! If you're a beginner, I really recommend hiring an instructor. Aside from teaching you the basics, they'll also pull you to sea so you don't have to paddle against the waves, they'll choose a good spot for you, they'll tell you which waves you can ride and time your turn according to surfer etiquette. Overall, they'll make your surfing experience much more enjoyable.
On my visit, I decided to try surfing without an instructor as I've already had experience in La Union. Sadly, I couldn't surf ANY waves at all during that hour. I didn't know how to spot which waves you can ride and I forgot a lot of the basics. Take it from me. Unless you have a lot of experience and practice, hire an instructor.
---
Where to Eat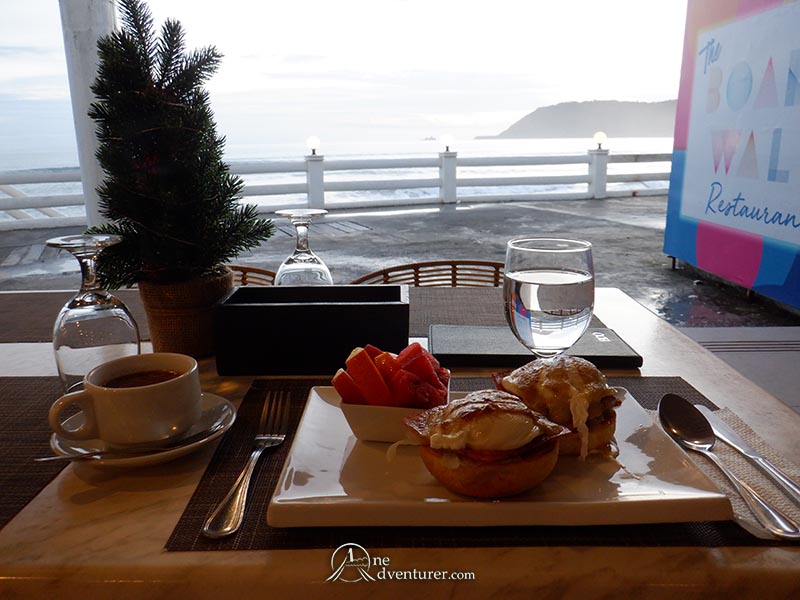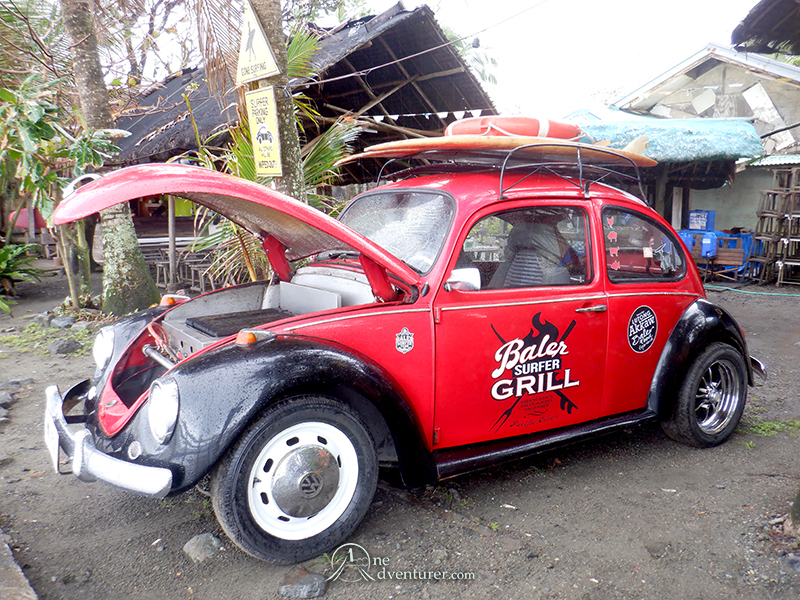 When we got to Sabang beach at around 5:40am, I was really tired and hungry from the five-hour trip. Fortunately, some restaurants in Sabang beach open at 6am! I had a very nice breakfast with a great view of the sunrise over the ocean. If you're staying multiple days in Baler, I suggest you wake up early to try it.
The food is decently priced here and you can expect to spend around P200 to P300 ($4 to $6) for a meal. They come in good portions too, compared to similarly priced items in Manila. Remember to try the pako, which is a type of fern popularly cooked as a vegetable in this region of the Philippines. My personal favorite has to be the pako and mozzarella pizza at Costa Pacifica resort.
One final note about the restaurants in the area is that although we were only able to try the restaurants along Sabang beach, there are also several cafes and bar and grills along Buton street on the other side of Sabang beach's resorts so make sure to give them a shot!
---
What else can you do in Baler?
Since the entirety of our first day at Baler was about my cousin's wedding, we didn't have a lot of free time on our second day before our ride home at 3:30pm. After spending the morning swimming and surfing and checking out of our guesthouse by noon, we had less than three hours to explore the town of Baler. Thankfully, Hannah's Lodge, the place we stayed at, had a local tricycle driver we could hire to give us a quick tour of the town.
Check out these places you can visit in Baler!
The lodge had a more extensive tour package if you have an entire afternoon and you want to explore most of Baler, so just ask around when you get there!