I read that when traveling abroad, you should shop around when you're trying to exchange your currency for the local one. I had no idea how important that tip was until it almost ruined our multi-country trip.
When we traveled to Vietnam and Thailand last March 2019, we made sure to prepare a good amount of cash for the trip. We made sure we have more than enough for food and transportation, tourist attractions, and souvenirs. The hotels and guided tours were all paid in advance. On the last third of our trip, however, we were quite surprised when we realized that we somehow spent most of our travel fund and we needed to cut back on all expenses.
It was really odd as we weren't splurging at all. We didn't do a lot of shopping and the cost of meals and transportation in Saigon/Ho Chi Minh and Bangkok were very similar to Manila. We budgeted for it all, so what happened?
Did our cash get stolen? No. We were extra careful and we always checked.
Was it the food? No. The meals we had weren't that expensive.
Was it the tourist attractions? No. We actually budgeted for all of those.
Was it the taxis? No. They cost the same and we didn't use them that often.
Was it the souvenirs? No. We didn't do a lot of shopping.
So what drained our travel funds?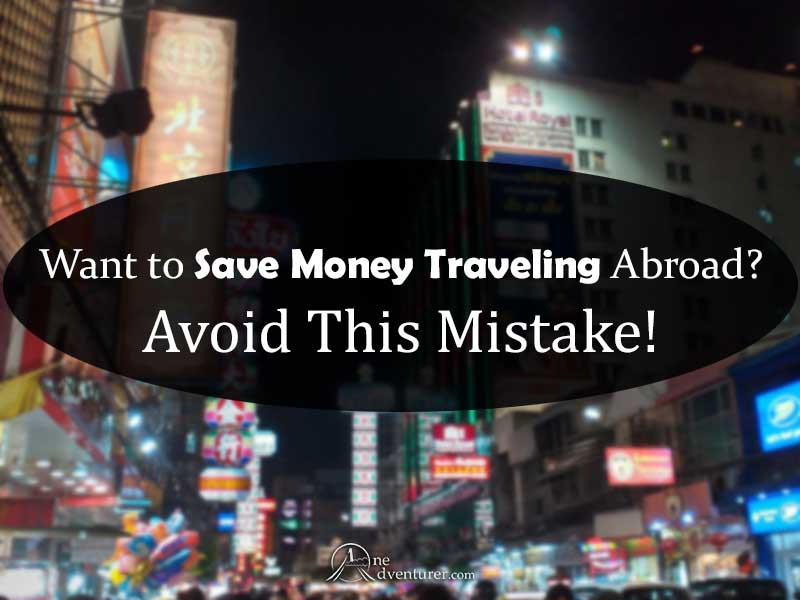 After our visit to Sea Life Bangkok and Madame Tussaud's at Siam Discovery mall (trips we budgeted for), we needed to exchange some money to buy some food and take a taxi back to our hotel. After dealing with the money changer, I saw that their rates were something like 0.50THB (Thai Baht) for 1PHP (Philippine Peso). I had some suspicions, so I decided to look online and check what the current THB/PHP rates are. It was around 0.61THB per 1 PHP. 
Was that normal? If you're going to exchange your money for the local currency, the money changer would usually pay far less than what you'll see online, and if you want to buy foreign currency using local currency, they would make you pay more. That's called a spread and it's one way money changers make money.
That was when I remembered the "shop around" tip when trying to exchange your cash. Money changers DO have different rates, and some would give you better deals than others. Thinking logically, places where tourists visit like major tourist spots and malls would have worse rates to make money of foreigners who needed to exchange their cash.
When our family got back to the hotel, I told my mother who was traveling with us about that "shop around" tip to look for shops with good exchange rates. She then remembered that we exchanged the vast majority of our travel funds back at the airport.
When we looked at the receipt, we were shocked at the rate we got. On the week where we could get around 0.60 THB per 1 PHP, we got 0.40 THB at the airport money changer. We were shocked at how terrible the rate there was. Also, when we found a money changer near our hotel, we were also shocked when they gave us 0.60 THB per 1 PHP. A FAR better deal.
Too bad we only had a little travel money left and it was the last day of our trip before we fly back home to the Philippines the next day. Imagine our disappointment back then. If only we exchanged most of our funds at those better money changers instead of at the airport.
---
It was a tough lesson…
We HAVE prepared a lot of money for our trip… but the airport's money changers took a HUGE chunk of it away. When I traded currencies (Forex trading) long ago, I was used to seeing spreads of a few cents, but a full ONE THIRD OF THE VALUE taken away? That was crazy.
To put it into perspective, imagine if you brought $10,000 worth of cash to enjoy your trip. After exchanging your money at the airport, they left you with just *$6,670 worth of local cash. You lost a huge part of your travel budget before you even stepped out of the airport.
After that experience, we never want to make that same mistake again.
*Notes on the math: At the time, the best rate we got was 0.60 THB = 1 PHP, so P10,000 would be THB 6,000, and THB 6,000 would be P10,000. The terrible 0.40 THB per 1 PHP airport rate gave us THB 4,000 instead of THB 6,000, and THB 4,000 is the equivalent of around P6,670. A full THIRD of our travel budget, gone.
---

Travel Tips – Choosing Money Changers:
---
1. Know the current exchange rate.
You usually won't get the exchange rate you see on the internet as money changers do have a "spread" (difference between buying and selling local currencies) and they still need to make a profit. Knowing the current rate, however, will let you know which dealers are relatively decent and which ones are ripping you off.
2. Don't exchange your cash at the airport (unless necessary). 
Again, you'll get the worst rates there. You can probably exchange a bit for pocket money, such as for a few taxis and a couple of meals, until you find a money changer with much better rates.
3. Use Google Maps to search for money changers.
If you open Google maps and go to the area you'll be visiting, you can type "money changer" on the search bar and it should show you the money changers in the area. Go walk over to them to ask for their rates, and exchange your money at the best ones.
4. Choose money changers away from tourist spots.
The day we discovered the 0.60THB/1PHP shop, we went to Wat Pho and Grand Palace/Wat Phra Kaew, a major tourist spot. We saw a money changer across the street and decided to ask about their rates. They give 0.45THB/1PHP, which is a terrible rate. I suppose nearby money changers would also offer something similar. Again, choose money changers away from major tourist spots. From what we've experienced, the money changer at the airport was the WORST, and the next worst ones are at the tourist spots, hotels, and malls.
---
Well, we'll end this article here for now so I hope those tips help! Traveling should be fun, and it shouldn't be ruined by money problems because a nasty money changer took out a huge chunk of your budget.
In any case, I hope you enjoyed this article! Save OneAdventurer.com on your bookmarks and come visit us again for more! Have fun and happy travels!